Temperature High and Low Alerts
To receive an alert when your Indoor Temperature drops below or rises above certain temperatures, you will need to enable "Send High and Low Threshold Alerts" in the American Standard® Home web portal.
NOTE: This article applies only to the

Gold 824/824B and Platinum 850/950/1050

thermostat models.

If you need assistance with setting these alerts on a Silver 724, please refer to the article located here: How To Set Temperature High and Low Alerts (Silver 724 Only)
Log in to the American Standard Home web portal.
If you have multiple homes, select the home you want to change.


Click Climate on the left side of the page.



Identify the thermostat you want to modify and c

lick Menu.


Select Settings.


Click Alert Settings.


Click the circle next to Send High and Low Temperature Alerts to enable alerts. If alerts are already enabled, you can disable them by clicking the circle to uncheck the option.



Once alerts are enabled, you will see the high and low threshold temperatures appear.

By default, alerts will be sent when the temperature goes below 45° F or above 100° F, but you can change these using the up and down arrows for each setting.



NOTE:

To avoid numerous alerts throughout the day, it is important that there is enough difference between your temperature settings and your High/Low alert thresholds. Allow a

minimum of 5 degrees

difference between your alert temperatures and your setpoints. For example, if you set your heat to 70° and cool to 65°, your High threshold should be no less than 75° and your Low threshold should be no higher than 60°.
Click Apply.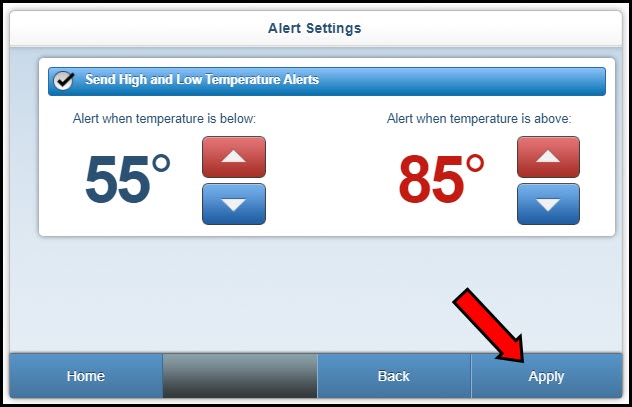 If you have any questions or need assistance, please contact American Standard Home Customer Support via email at help@asairhome.com or call 1-877-374-0697, Monday-Friday 9 AM – 8 PM ET, and Saturday 10 AM – 5 PM ET.